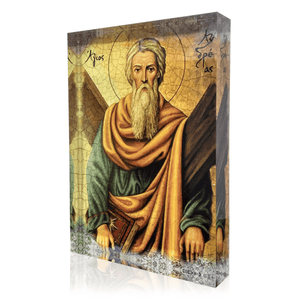 Our Icon Collection is Exclusive to Miss Ble Blu Made in Greece and our partners.  Time and effort is put into making these beautiful icons. All hand crafted, and offer a 3D effect. 
The Collection is Designed and Made in Greece. Monogram Atelier icons are unique and distinct. Your original Monogram Atelier icon is made with intent and purpose, the embracement of holy water with an aim to strengthen your faith to the Orthodox Religion.
If this item is on PREORDER it will take approximately 2-3 weeks to deliver.  We do our best to ensure the product is sent from Greece As Soon As Possible
Andrew The Apostle, also known as Saint Andrew was born between AD 5 and AD 10 in Bethsaida, in Galilee. Andrew was the brother of Simon, Peter and Jonah. 

The first striking characteristic of Andrew is his name: it is not Hebrew, as might have been expected, but Greek, indicative of a certain cultural openness in his family that cannot be ignored. We are in Galilee, where the Greek language and culture are quite present.
Both he and his brother Peter were fishermen by trade, hence the tradition that Jesus called them to be his disciples by saying that he will make them "fishers of men."
Wholesale Enquiries are Welcome