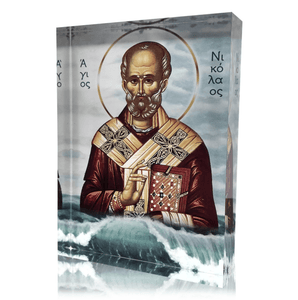 Our Icon Collection is Exclusive to Miss Ble Blu Made in Greece and our partners.  Time and effort is put into making these beautiful icons. All hand crafted, and offer a 3D effect. 
The Collection is Designed and Made in Greece. Monogram Atelier icons are unique and distinct. Your original Monogram Atelier icon is made with intent and purpose, the embracement of holy water with an aim to strengthen your faith to the Orthodox Religion.
If this item is on PREORDER it will take approximately 2-3 weeks to deliver.  We do our best to ensure the product is sent from Greece As Soon As Possible
Saint Nicholas of Myra was an early Christian Bishop of Greek descent from the maritime city of Myra in Asia Minor.

He is the patron of all travellers, and of sea-farers in particular sailors and the sea; he is one of the best known and best-loved Saints of all time.
He is beloved throughout the Christian world for his kindness and help, both during his life and afterward. He is called "Wonderworker" (or "Miraculous" or "Miracle-Worker", different translations of the Greek "thavmatourgos") for the miracles which he performed and which he still performs, by God's grace.
Our Icon Collection is Exclusive to Miss Ble Blu Made in Greece
Wholesale Enquiries are Welcome