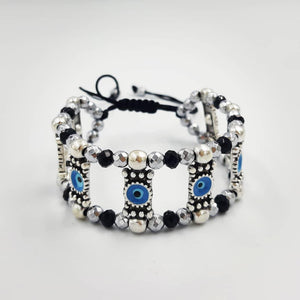 This beautiful Greek Bracelet can be tightened with string and has Mati beads across the middle. Handmade exclusively made for our store. 

This Bracelet can be dressed up or down depending on what you are wearing. We hope you love it as much as we do.
If this item is on PREORDER it will take approximately 2-3 weeks to deliver.  We do our best to ensure the product is sent from Greece As Soon As Possible
Designed and Made in Greece!