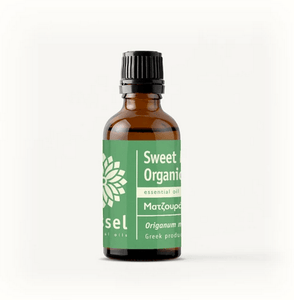 Chalkidiki, Northern Greece
It is said that Aphrodite (the Greek goddess of love) grew marjoram and as a result marjoram has been used in "love potions." The ancient Greeks and Romans also used sweet marjoram in various remedies for conditions such as swellings and convulsions and as a remedy for poisons.
How we like to use it:

Inhalation / Vaporisation:
Vaporise a couple of drops or use in an aroma inhaler for stress and stress-related issues such as anxiety or insomnia. Try blended with lavender, geranium or bergamot.

Vaporising a couple of drops of sweet marjoram might also help to temporarily ease hypertension. Try in combination with a drop of lavender or melissa.
Skin applications:
For menstrual pain and crumps and acute PMS try with geranium or lavender.

For gastrointestinal (digestive) spasms– dilute with some mandarin, sweet orange or peppermint in a fixed oil (carrier oil) and gently massage the lower abdomen.